Read on if you see yourself below:
You're a serious-about-your-biz entrepreneur who's putting together a team of skilled pros to help you create massive leverage in your online business.

You're a visionary who's already replaced your 9–5 income and now you want to see how high you can fly in your online business—without working harder.

You're a dedicated pro who knows that wings made of wax (i.e. the work of a string of cheap freelancers) won't let your soar past your current goals.

You're an ambitious entrepreneur who recognizes that "the mission needs margins". So you believe that you can make your biggest impact when you have an expert on hand to help you make the right decisions, every step of the way.
Here's what your life looks like now:
Your VA sends you a list of the copy assets you'll need for your next launch.
And you should be excited.
But then you realize how many hours of writing it's all going to take, on top of your current content creation.
So you go into hard-work hibernation for a week:

…dropping everything other than your client work (sorry family + friends!).

…saying goodbye to your sanity, good diet and workout routine.

…spending the hours you really should be sleeping trying to churn out ALL those emails and landing pages.
You've worked with some amazing copywriters before.
But somehow it feels like the good ones are always moving on up, to bigger and better things.
So are you.
And that's exactly why you need a talented copywriter who's willing to work with you for more than one project at a time.
Because you're so over having to hunt for another reliable freelancer every time you start a project.
It costs you too. much. time:
Finding someone who does what you need…Requesting then reading their samples…
Hopping on Zoom calls… and then checking your gut to see if they feel like someone you can trust.
It feels like you're always on-boarding.
Both learning a new process and teaching your contractors how you like to work.
You're tired of trying to do it all yourself. So you'd love to have someone you trust…
Someone you can turn to when quick copy questions come up.
…who knows your audience, your voice, and your business.
… and who can work with you consistently so that you can develop an actual relationship—and experience the joy that comes with them knowing what you need… before you even put it in a voice message.
How does this reality sound instead?
When your VA sends you the next big list of the copy she needs, you confidently say, "No problem…."
'Cause you've got front-of-the-line access to a skilled conversion copywriter—who takes the rough ideas you give her, and turns them into solid copy gold.
You've finally found someone who writes copy that's actually GOOD… And the process of working together is painless and smooth.
In regular sessions, she either writes or optimizes your most valuable marketing assets, making sure that they're hitting all the right notes.
She's communicative and on top of things, so the burden is never on you to follow up.
And you trust her to deliver great results.

On time, every time.
So you're sleeping well AND seeing great results from every page you publish.
Analysis paralysis and blank-page-syndrome are both in your rear-view mirror.
You're getting great results without working harder.
So instead of being a quarterly occurrence, you haven't experienced "hard-work hibernation" for over a year…
In fact, you're getting more done, doing great work for your clients, and when you're spending time with your family, you can actually be truly there.
In the moment.
Instead of thinking about the next launch email you've gotta write.
You don't have to have your business on your mind, all the time, because you're completely confident that you've got:
Headlines that capture attention and hook your readers by the heartstrings.

Landing pages that entice your visitors to click "Yes, please!"

And sales emails that are based on both strategy and style.
So that when you are at work, you can focus on the parts of your business that require YOUR special brand of genius.
Wondering where you find a unicorn like the copywriter I just described?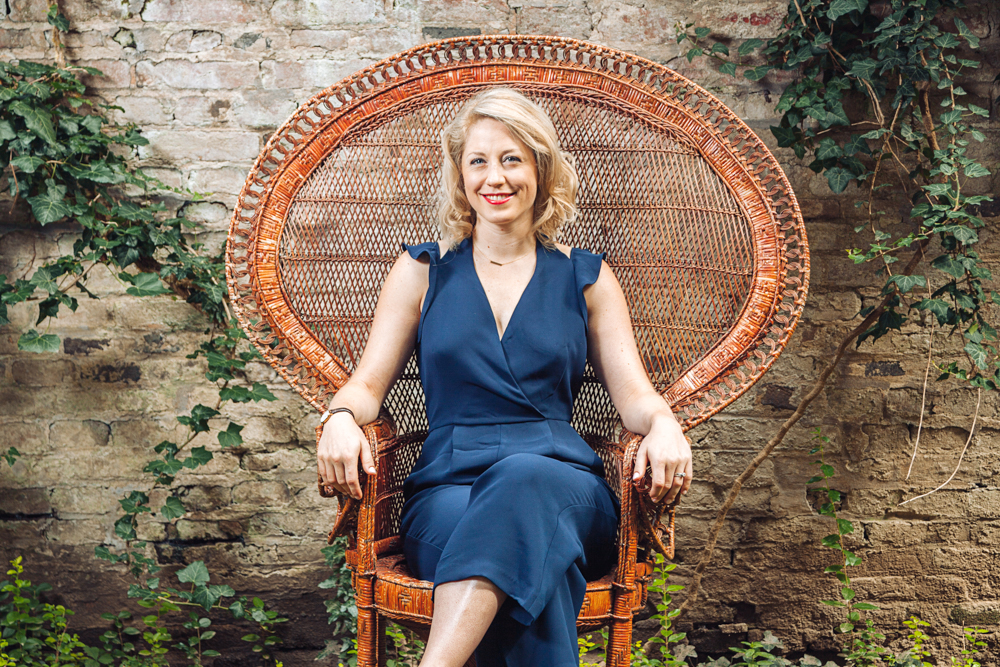 …i LEFT MY HORN AT HOME TODAY, BUT actually—
that unicorn is me.
In case we haven't met, let me introduce myself:
I'm Katie Peacock. Strategic partner and secret weapon of adventurous women entrepreneurs.
I'm passionate about helping online business owners make more money (and have a bigger impact) with copy that clearly communicates the value of the transformation they provide.
So that whatever action you want your readers to take – whether it's booking a call or hitting that "Buy" button – becomes a natural next step…
Because, in your copy, your ideal clients see the possibility of becoming a better version of themselves.
When I'm not sharpening my copy skills or working with badass women online, my other hobbies include:
reading literary (and not-so-literary) fiction (I wrote my Master's thesis on the reasons why good romance novels are so damn immersive),

drinking a nice deep-red Aperol spritzer on my balcony with good friends,

travelling Central Europe (I'm based in Austria) with my English husband, Richard, and

soaking up as much knowledge as I can about persuasion, marketing, empathy, and how we connect with other living beings.
I've heard so many business owners say:

"I know good copy when I read it,
but it takes me TOO LONG to write it myself.
And I really don't want to go through the whole process of starting a new project for every landing page or email."
…and because listening to your audience is such a big part of what I do — Voice of Customer data is my not-so-secret sauce — I've put together a package that's specifically designed to solve the problem of too-much-copy overwhelm, without you having to:
find a new freelancer every time you need a new email sequence,

spend half your VIP Day bringing a new copywriter up to speed on who you are and what you do,

worry that you're putting your crucial bottom-of-the-funnel conversion copy into the hands of a copywriter who's just going to:
a) guess,
b) ghost you, or
c) send you back some s**t that's worse than what you could have done yourself.
Because giving you smart, strategic, impactful and top-of-the-line conversion copy, through a process that's actually ENJOYABLE for you to go through, is what I'm all about.
"Katie, I love this copy! I'm so happy with what you accomplished in just a day. This is fabulous!
"What I think you did really well is make the copy sound accessible and fun, without being hokey. I want my personality to come out and to be authentic, but I'm also a serious professional, and I think you've struck the perfect balance with that.
"Now that I see this, I'm honestly like, "Where have you been all my life?" All those nights of "How do I say this? How can I put that?" are finally behind me.
"You've already captured my personality in the words-- now the design and the images to come will just be the icing on the cake."
— Kelley Keller, Intellectual Property Attorney and Founder of TheTrademarkGirl.com (coming soon)


"What did I like about working with Katie? She was thorough in her research, she asked the right questions, and she went above and beyond to ensure that all of my copy (even the stuff she didn't write) was in the same voice and easy to understand.
"She was one of the few people I've worked with who was reliable and consistent in the quality of her work.
"Katie is extremely well organized and always had a clear agenda for each meeting. Her work was delivered on time and she was willing to edit until the copy until it was to my liking (which she accomplished in only one round).
It was a pleasure to work with Katie and I hope we get to do it again!"
— Jacqueline Gutierrez, Founder and CEO of Beauty Backer (coming soon).
Introducing…
The Elevated Copy Experience
Designed to ensure that your copy is optimized for both connection and conversion—without that process taking over your life. So that you can enjoy the peace of mind of knowing it's done and the confidence that comes with knowing it's done well.
You choose the scope of the experience you're looking for:
Small
2 Half Days / Month
(2 x 3 hours)
1 hour of Voxer copy coaching per week for your quick copy Qs
$2900 value
Investment of $2500/month
Medium
2 Full Days OR 4 Half Days/ Month
(2 x 6 hours / 4 x 3 hours)
1 hour of Voxer copy coaching per week for your quick copy Qs
$4600 value
Investment of $4000/month
Large
4 Full Days/ Month
(4 x 6 hours)
1 hour of Voxer copy coaching per week for your quick copy Qs
$8000 value
Investment of $6000/month
Because this offer involves so much face-to-face, we've both gotta make sure we're a match before we can get the ball rolling.
Depending on your needs, you can choose to book me for 2 half days a month, 2 full days a month, 4 half days a month, or 4 full days a month.
No matter which package you choose, my first step will be to take a look at your existing Voice of Customer data, i.e. call transcripts, testimonials, survey data, anything where your clients are talking about their problems and how you helped them solve it.
Based on that, I'll recommend next steps to fill in the blanks.
Our Kickoff Call will help me get crystal clear on your offer, your outcomes, and the messages that connect with your best buyers.
Plus, we'll get concrete about the kind of process that will make this the perfect arrangement for you.
Once we're ready to rumble, all you have to do is let me know what copy I'll be working on by the Tuesday of any given week.
This can happen via voice message in Voxer or by adding tasks to our project in Asana.
That gives me time to ask questions and get clarification before I get to work on Friday, writing and delivering the pieces you request. When the day's over, I'll film a quick video walkthrough to present what I've done and then upload it to our shared Google folder.
This relationship can be as long-term or short-term as you'd like. You can choose to pause for a month if there's nothing you need, or level-up to a bigger package when the need comes up.
We're partners now, and I'm gonna have your back.
Your Curated Copy Experience also entails…
Forgetting what a pain it is to on-board a new freelancer. Because we're constantly optimizing our process to find the absolute best fit for you— you get top-of-the-line, maximally effective copy and it feels absolutely effortless.

Your fight against the resistance is over. Your copy shows up in your Google Drive when you need it, ready to do the job that you need done.

You've got an expert on hand to talk you down from the ledge anytime all the copy needs start to stress you out.

You have more time to work in your Zone of Genius (or take long lunches with friends you haven't seen since business started going so well)

Your blood pressure drops and you can actually "get tranquil" during your yoga practice because you've got peace of mind that your copy is top-notch.

That relaxation means that you have the increased bandwidth to come up with your next big Great Idea. And you feel confident that you can execute because you know you've got a pro to take care of the copy.
Ready to elevate your copy?